eBay Singapore's Laptops & Notebooks Buying Guide


Laptops, or notebooks as they are also frequently named, give you the freedom to take your computer into different rooms and on the road. Students, frequent travellers, and people looking for a small, portable second computer love these alternatives to desktop PCs. You'll find a great range of laptops on eBay Singapore available from Apple, Dell, HP, Compaq, Toshiba, IBM, Acer and more. Start shopping for laptops and notebooks now on eBay Singapore!

Prioritise Laptop Price, Performance, & Portability


Prioritise Laptop Price, Performance, & Portability
Before looking at system specifications, decide if features or portability matter more to you. Many students and frequent travellers consider portability a deciding factor when buying a laptop. However, lighter and smaller laptops are generally less powerful than their heavier counterparts.
Generally, more expensive laptops either offer more features or greater portability than lower-priced models. For example, "desktop replacements" (see table below) have all the features you'd want from a full-sized desktop PC, but they weigh more than other laptops, and you wouldn't want to carry one around for long. Similarly, thin-and-light notebooks and bargain notebooks have a lot of the same features, but the thin-and-light models weigh less and often cost more. Consider buying a bargain notebook if your priority is budget and features, more than portability. If you'd rather carry something lighter, it might make sense to step up to a thin-and-light or ultraportable.
When deciding how much laptop you can carry, consider the laptop's weight as well as the additional weight of a carrying case, an extra battery, any swappable drives, a power cord, and networking cables.
| | Ultraportable | Thin-and-Light | Bargain | Desktop Replacement |
| --- | --- | --- | --- | --- |
| Weight: | Less than 1.8kg | 1.8-2.7kg | 2.7-3.6kg | More than 3.15kg |
| Thickness: | Less than 1.25cm | Less than 2.5cm | More than 2.5cm | More than 2.5cm |
| Display Size: | 30cm (12-inch) | 30-36cm (12 to 14.1-inch) | 36cm (14.1-inch) | 38-43cm (15-17-inch) |

Back to top

Find a Laptop to Fit Your Lifestyle


Find a Laptop to Fit Your Lifestyle
Before you start shopping, consider how you plan to use your laptop. You want to ensure it meets your personal needs as well as the system requirements set by your Internet service provider.

You're after a second computer for the house that you can take with you from room to room and use for email, surfing the Internet, and doing some basic photo editing. Look for a bargain laptop or desktop replacement with at least 1GHz processor and 256MB RAM. If you have a wireless home network, make sure it includes built-in Wi-Fi.
You want a lightweight computer that you can carry from the classroom to the library. Consider looking for an ultraportable or thin-and-light laptop with a processor in the Pentium-M family, with built-in Wi-Fi, at least 256MB RAM, a burner (either a CD-R, CD-RW, or DVD+RW/-RW drive), and a productivity software package such as Microsoft Office or Microsoft Works.
Having a lightweight computer to use at the airport and in meetings is ideal for you. Look at thin-and-light or ultraportable laptops with processors in the Pentium-M family, built-in Wi-Fi, at least 256MB RAM, and a suite of productivity applications such as Microsoft Office or Microsoft Works.
You need to travel, create presentations and spreadsheets, and be able to hook up to a network. Depending on your need for portability, look at thin-and-light and desktop replacement laptops with the productivity software such as Microsoft Office, Wi-Fi (or an included Wi-Fi card), an Ethernet card, at least 256MB RAM, and at least 40GB hard drive space. Frequent business travellers will probably prefer thin-and-lights to desktop replacements. But, if you spend most of your time at a desk, the desktop replacement's superior power and features may be the way to go.
You want to edit video, audio, or photos with processor-intensive applications such as Photoshop. Look for a desktop replacement with at least 512MB RAM, a 2GHz or faster processor, and at least 80GB hard drive space.
A FireWire (also called IEEE 1394) or USB 2.0 port can also come in handy to transfer data from devices such as your digital camera, video camera and MP3 player. If you want to burn DVD movies, buy a DVD+R/RW drive. You can also purchase these components separately in the laptop accessories category.
Gamers want speed and amazing graphics. Gaming laptops have fast processors, high-end graphics cards, and slick displays, but you'll normally pay a premium for all the latest goodies. Look for a desktop replacement with a Pentium 4 or AMD Athlon 64 processor in the 2.8 to 3.4 GHz range (or AMD equivalent), at least 1GB RAM, and a 256MB 3D graphics card.

Back to top

Pick a Laptop Processor


Pick a Laptop Processor
AMD and Intel make several processors typically found in laptops. While some optimise laptop battery life, others concentrate on performance. Mobile processors, marked by the word "Mobile" or "M", generate less heat and require less power than processors designed for desktops. Unless you need a powerful desktop replacement, then get a mobile processor to extend battery life and prevent overheating. Most people should start with a 2.0GHz Pentium 4-M, 1.7 GHz Celeron-M, or 2200+ Athlon XP Mobile and work their way up.
Celeron: Intel's budget-oriented chip with speeds up to 2.5GHz. They run slightly slower than Pentiums.

Celeron-M: This low-cost processor has speeds up to 1.5GHz and slower speeds than Pentium-M. People wanting to email, surf the Internet, and use word processing applications will be fine with the Celeron-M. It replaced the Pentium III-M in the low-end laptop processor arena.

Pentium-M: The battery-efficient Pentium-M is available in speeds up to 2.1GHz. The processor is part of Intel's Centrino Mobile Technology with built-in Wi-Fi.

Pentium 4: Designed for desktops, Intel's Pentium 4 will appeal to multimedia enthusiasts. With fast gigahertz speed, they tend to get hot and eat up battery life. If you intend to stay plugged in, they offer great performance.

AMD Athlon 64: Gamers favour the Athlon 64 which supports 64-bit computing and is usually found in desktop replacements.

Mobile AMD Athlon 64: Comparable to Pentium-M chips, the Mobile Athlon 64 is compatible with 802.11g wireless networking technology.

Back to top

Select Standard Laptop Features


Select Standard Laptop Features
Once you've decided on a laptop weight class and processor, consider other components.
Hard Drive: A computer's hard drive stores all your programs and files. Drives with higher storage capacities (measured in GB) allow you to save more data than drives with a lower storage capacity. You only need 20GB to 40GB of hard drive space if you only plan to store your operating system, programs, documents, and a few photos. If you plan to save a lot of large files like high-resolution images, movies, or music you'll want at least 80GB. Additional external hard drives also work well for storing large files and data backup purposes.

Memory (RAM): Programs, including operating systems, need a certain amount of memory (RAM) to run, with more RAM providing better performance. For example, Windows XP requires at least 128MB RAM to run according to Microsoft. Most people find the number closer to 256MB and see even better performance with 512MB RAM, 1GB RAM or more.

CD and DVD Drives: With any computer you buy, you want a way to back up your work. Some laptops come with fixed internal drives while others have a hot-swap bay where you can insert and remove a CD drive, DVD drive, or combo drive. Combo drives can read or write to two media formats. They may also include a read-only media format such as CD-ROM (to read CDs) or DVD-ROM (to play DVD movies and read CD-RWs). With hot-swap bays you can always upgrade to a different drive (for example, from a CD burner to a DVD burner) later and you can sometimes use an extra battery with the bay.

Networking and Wi-Fi: If you want to connect to the Internet from more than one location in your home or office, find out if the laptop has built-in Ethernet support, a PCMCIA network interface card, or Wi-Fi (802.11b or 802.11g) support.

Graphics Card: A graphics (or video) card processes video, freeing up memory (RAM) for other system tasks.
Although a laptop's small size can make it trickier to upgrade than a desktop, even new computer users will feel comfortable:
Adding memory. Laptop memory upgrades don't cost a lot of money and most people can replace a RAM stick in a couple minutes. In order to run Windows XP Home, Microsoft recommends you have 128MB RAM. However, Windows seems a lot happier with 256MB RAM, or 512MB RAM or more.

Inserting a new hot swap drive (if your laptop supports them).

Installing a new PCMCIA card. Some laptops have an Ethernet or modem card in the PCMCIA slot, but if you have an open card slot, you can quickly add USB 2.0, FireWire, an Ethernet port, or Wi-Fi.

Back to top

Get Essential Laptop Accessories


Get Essential Laptop Accessories
Don't quickly rule out a listing based on price alone. Sometimes buying "bundles" that include all the laptop accessories you need can actually save you more money. If you find a deal on a laptop that meets all your needs on eBay Singapore, you can also shop for accessories a la carte in the Other category.
Mouse options: Laptops don't have a traditional mouse. Find out if the laptop includes a touchpad, nub, or both. You may even get lucky if a seller throws in a mouse.

Bluetooth: Some laptops support a short-range wireless networking technology called Bluetooth. If you have a Bluetooth-enabled PDA or mobile phone, consider getting a laptop that can talk and exchange data wirelessly with your other electronics.

Extra Battery: If you depend on your battery to keep your laptop up and running for long periods of time, ask your seller how long the manufacturer expects the battery to last. You may want to invest in a second battery to keep with you in the classroom or on the road. If you plan to plug in to a power source most of the time, then battery life won't concern you too much.

Docking Station: A docking station allows you to connect your laptop to a standard keyboard, mouse, monitor, and printer. It stays plugged in and powers your laptop so you conserve battery power.

Carrying case: If you plan to take your laptop out and about, you'll need a laptop carrying case.

Cable lock: Most laptops have a security slot, but not all of them come with a lock. If you want a lock, look for listings that include them. You can also buy cable locks separately.

Back to top

Find Laptop and Notebooks on eBay Singapore


Find Laptop and Notebooks on eBay Singapore
Once you know what type of laptop you need, go to the Electronics & Computers portal, click 'Laptop & Notebook' Computersunder Computers & Office Products, and start searching for items on eBay Singapore.
Keyword search: Type a term into the search box or Product Finder keywords box and eBay Singapore will uncover listings for items containing the term in their titles. For example, if you want to find a Centrino laptop, type "centrino" into the search box. Check "Search title and description" to expand your results. Visit eBay Singapore's Search Tips page for more tips on searching with keywords.
If you can't find exactly what you want, try shopping eBay Stores, or saving a search on My eBay and eBay Singapore will email you when a match becomes available.

Back to top

Buy with Confidence


Buy with Confidence
Before making your purchase, make sure you know exactly what you're buying, research your seller, and understand how eBay Singapore and PayPal protect you.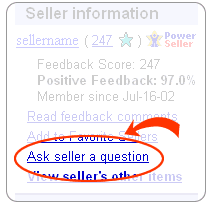 Carefully read the details in item listings.
Figure delivery costs into your final price. If you spend a lot of money, make sure the seller will insure the item when it posts.

If you want more information, ask by clicking the "Ask seller a question" link under the seller's profile.

Always make sure to complete your transaction on eBay Singapore (with a bid or Buy It Now). Transactions conducted outside of eBay Singapore are not covered by eBay Singapore protection programmes.

Never pay for your eBay Singapore item using instant cash wire transfer services through Western Union or MoneyGram. These payment methods are unsafe when paying someone you do not know.
Research your seller so you feel positive and secure about every transaction.
What is the seller's Feedback rating? How many transactions have they completed? What percentage of positive responses do they have?

What do buyers say in their Feedback? Did the seller receive praise?

Most top eBay Singapore sellers operate like retail stores and have return policies. Do they offer a money-back guarantee? What are the terms and conditions?
In the unlikely event that a problem arises during your transaction, eBay Singapore and PayPal are there for you.
Pay safely with PayPal: PayPal enables you to pay without the seller ever seeing your bank account or credit card numbers. In fact, PayPal protects buyers 100% against unauthorised payments from their accounts. Plus, with PayPal Buyer Protection, your purchase can be covered up to US$1,000.

eBay Singapore Security Centre: Visit the Security Centre to learn how to protect your account and use eBay Singapore's quick and efficient resolution tools.

Back to top

Need More Help?


Need More Help?
Visit our help pages or start a thread on one of our Community Discussion Boards - If you have a quick question that needs answering, try posting it on our community Answer Centre - there's bound to be a seasoned eBay Singapore veteran with just the information you're looking for!

Back to top

Legal Disclaimer


Legal Disclaimer
Buying Guides are intended merely as a guide or review for members when considering what products or services they may be interested in bidding on or purchasing. eBay does not make, and nothing in these Buying Guides is intended to constitute, any warranties, guarantees, representations or assurances about the accuracy of the information or content contained in these Buying Guides. Furthermore, eBay does not make, and nothing in these Buying Guides is intended to constitute, any warranties, guarantees, representations or assurances about the nature or performance of the products or services appearing in the Buying Guides. eBay is not affiliated with nor does it endorse the use of any particular product or service.

Back to top

---

Resources



Related Guides

Helpful Links