eBay Singapore's Exercise & Fitness Buying Guide


Getting fit has never been so convenient and from treadmills and stepping-machines to home gyms and free weights, you will find a fantastic selection of exercise & fitness equipment eBay Singapore. Before you buy, think about your fitness goals and then identify the features you will need to achieve these goals. Remember to consult with your doctor before beginning any exercise regimen. Start shopping for Exercise & Fitness equipment now on eBay Singapore!


Discover Treadmills


Discover Treadmills
Treadmills provide a low-impact activity whilst helping to burn calories and improve endurance.
Manual treadmills have no motor and depend on people-power! This means that the treadmill requires the walker / runner to move in order for the belt to move. Thus, the belt moves only according to the speed of the runner. The faster you go, the faster the belt moves along with you.These are the most inexpensive treadmills and maintenance is minimal.
Electric treadmills or motorised treadmills typically run on DC power and have two motors, one to drive the belt and another to control the incline. These treadmills maintain a steady pace and unlike their manual counterparts, they do not slow down when you do. Electric treadmills can reach the desired workout speed quickly. Although electric treadmills cost more and may require occasional maintenance, they can include a lot of great extra features such as a digital readout for speed, distance and calories, a fan, CD player or heart rate monitor.
The horsepower of a treadmill is an important feature when selecting electric treadmills. The larger the motor, the more horsepower it can deliver. The amount of power you require depends on whether you want to walk or run and also on your body weight.
Continuous duty: The amount of horsepower that a treadmill motor can deliver under regular anticipated use. The continuous duty measurement generally means more to people than peak horsepower.
| Purpose | Continuous Rating |
| --- | --- |
| Walking & Jogging | 1.0hp-1.5hp |
| Running | 1.5hp and higher |
Heavier runners may want to consider treadmills with a minimum of 2.0hp
Peak performance: The amount of horsepower that a treadmill motor can deliver for a short period of time.
Treadmill belts come in varying sizes, with widths between 40 and 55 centimetres (cm) and lengths between 112.5cm and 165cm. Make sure the belt on the treadmill you want to buy can accommodate your longest walking or running stride. Runners and people with a long stride may want a longer belt and should consider a wider belt to compensate for natural side-to-side running movement.
| Stride | Belt Width | Belt Length |
| --- | --- | --- |
| Average | 40 - 45 cm | 112.5-125 cm |
| Long | 40 - 55 cm | 125-150 cm |
Most treadmills operate between 0 and 16 km/h, and some can reach up to 20 km/h for the more serious runners. Most people usually walk at approximately 4.5-9.5 km/h and run 9.5-16 km/h. Some treadmills offer one-touch controls to quickly change speed settings.
When working out on a treadmill you can keep the belt flat or create a 'hill', called an incline. Most treadmills allow an incline of up to 15% (commercial treadmills go up to 25%). Running uphill or with an incline can make your workout more challenging and offers an excellent way to train for races. There are three types of treadmill incline controls:
1. Manual Incline: Manual incline require a manual adjustments to the settings. These treadmills tend to cost less than power incline and heart rate control inclines, but you will need to consider the inconvenience of changing the settings.
2. Power Incline: Power or auto incline require the touch of a button, even during a workout, to adjust the incline from 0% to 10% grade.
3. Heart Rate Control: Most high-end treadmills offer automatic incline adjustment based on your heart rate.

Back to top

Explore Exercise Bikes


Explore Exercise Bikes
Exercise bikes or stationary bikes provide a fantastic cardiovascular workout whilst specifically working the lower body. When shopping for a stationary bike, determine the type of exercise bike that will suit your needs, the type of resistance you want it to provide and also the type of feedback you would like it to provide to you.
There are three main types of stationary bikes on the market:
Upright: Traditional upright exercise bikes require you to sit up on a traditional bike seat while pedaling.

Dual action: Dual action upright bikes provide movable arms to work the your upper and lower body simultaneously and ensure a more intense workout.

Recumbent: Recumbent bikes let you sit back in a chair or bucket seat while pedaling. These bikes work great for people who have back problems.
Most bikes can accommodate a wide range of body types. For example, most have an adjustable seat for people of different heights. However, some exercise bikes may have a maximum weight capacity.
Pedalling on a stationary bike without any resistance would prove to be a pointless exercise - you would be pedaling against nothing, literally just spinning your wheels. Stationary exercise bikes create resistance, making it easier or harder for you to pedal, by one of the following methods:
Direct tension: Direct tension allows you to manually adjust resistance by turning knobs or adjusting a lever.

Flywheel: A heavy flywheel regulates resistance and ensures smooth operation of your bike. You will need to pedal to create the kinetic energy needed for the wheel to maintain resistance.

Air: Pedal against the air flow from a fan built into your wheel. The harder you pedal, the greater your resistance. As an added benefit, the air from the fan helps cool you down.

Magnetic: Popular in gyms, magnetic resistance offers friction-free pedaling while allowing you to effortlessly increase difficulty.
Most exercise bikes will indicate the speed, the number of kilometres you have pedalled, and also the amount of time you have been exercising for. More expensive bikes can also monitor your heart rate, determine the number of calories burned or offer pre-programmed workouts that mimic outside environments such as hills or the park. Alternatively, you can purchase a separate heart rate monitor or pedometer that will count your steps and calories burned for you.

Back to top

Select Elliptical Machine Features


Select Elliptical Machine Features
Elliptical machines or sometimes called cross-trainers, provide a low-impact workout by using a fluid motion that mimics stepping, walking and skiing to increase your heart rate. The machine will stop when you do. When shopping on eBay Singapore, look for the following features:
Dual action: Movable handlebars on dual action elliptical machines allow you to work out your upper and lower body simultaneously. You can let go of the handlebars and just operate the pedals if you choose.

Dual direction: Dual direction machines allow both forward and backward motion, which can help to emphasise leg muscle workouts.

Pre-programmed courses: Pre-programmed courses mimic a workout that could be like a walk in the park, a mountain climb or even a customised program.

Display: Ensurethe display is large enough for you to be able to see the number of calories burned, the distanced walked, the speed and also the heart rate

Safety: Check for non-slip foot pedals.

Back to top

Choose Stair Machines & Steppers


Choose Stair Machines & Steppers
Tone those calves, hamstrings and glutes with a stair machine or stepper. Like treadmills, you will find manual and electric options. Remember that additional feautures often mean additional costs.
When choosing which type of steps you want on your stair machine, you have two options: dependent or independent motion.
Dependent: Steps come linked together and when you push down on one step, the other step will also move. Thus by shifting your weight, your workout can be made somewhat easier.

Independent: Steps do not come linked together. You need to push down on each step to make it move.
If you want bars to hold onto while you exercise, make sure you look into a stair machine/stair climber instead of a simple stepper. If in doubt, look at the pictures provided in the item listings.
The type of resistance used by the stair machine will help determine your final price, with more advanced features increasing the price of the machine.
Cylinder-driven: Cylinders work like shock absorbers, providing resistance using air or hydraulic fluid. You change the resistance by turning a knob. If you want an independent-motion stair machine that has cylinder-based resistance, make sure the cylinder has a large load capacity to accommodate your full weight. Cylinder-driven stair climbers will usually tell you how long you worked out and provide information about the total number of stairs climbed, the approximate distance travelled and the number of calorie burned.

Computer-controlled: Magnetic resistance machines offer predictable changes in resistance and smooth movement. They provide feedback about your heart rate, distance, steps climbed and calories burned and come with pre-programmed workouts that mimic hills and mountains.

Back to top

Determine the Right Home Gym for You


Determine the Right Home Gym for You
When shopping for a home gym, ensure that the features you are considering will help you to meet your fitness goals.
Resistance: Do you want a series of elastic bands to provide resistance or do you want a system of cables and pulleys to lift a stack of weights?

Weights: If you decide on a home gym with a weight stack, does it include enough weight?

Strength: If you want to do some major strength training, does the gym include free weights?

Add-Ons: Does the gym have add-ons for leg lifts and other lower body exercises or will you concentrate on your upper body?
Before you bring home that home gym, it might be wise to decide where it will be kept. Measure the space and ensure that there is sufficient space for the home gym to be used and stored. Sellers will list a gym's height, length and width in item listings. Also, decide on the number of stations you will need:
Single-station gym: Single-station setup works well for one person using the home gym at a time.

Multi-Station gym: Multi-station setups are great if you have a workout buddy or if more than one person wants to work out on the gym at once.

The Total Gym: If space is an issue, ensure that the gym can be collapsed and stored easily. The Total Gym folds up so that you can store them out of sight under the bed or in a closet.

Back to top

Pick Free Weights & Benches


Pick Free Weights & Benches
Free weights give you the opportunity to build strength at home without a spending a lot of money. Start out with the weights you need and add more to your collection as your strength increases.
Metal Weights: Highly durable metal weights may endure the test of time, but may damage your floor if you drop them. Some chrome weights need regular maintenance to prevent rust.

Synthetic Weights: Weights coated with plastic, acrylic, rubber or neoprene will cause less damage when dropped and do not require regular maintenance. However, thecoating may degrade over time.
Dumbbells do not need setting up, take up minimal space and are available in sets of weights.
Barbell allow you to add weight plates as you work out. Those interested in bench pressing will also need a workout bench.
Different benches can support different amounts of weights. If you want to bench press 90kg, make sure the bench can handle it. Also ensure that the 'crutches' or supports that hold the weight bar, can fit the bar. In general, the wider the crutches, the more wirght they can bear.
Standard: 70cm crutches handle five to six-foot bars.

Mid-size: 100cm crutches handle six to seven-foot bars.

Olympic size: 120cm crutches handle seven-foot bars.
Some benches have the ability to adjust to create an incline or decline. If you want to do abdominal exercises on your bench, make sure it has these adjustment options. If you want to work on your arms and legs, look into a bench with built-in arm and leg attachments or comparable add-ons. If you're looking to further improve your abdominal muscles you may want to look into getting yourself an abdominal machine.

Back to top

Find Exercise & Fitness Equipment on eBay Singapore


Find Exercise & Fitness Equipment on eBay Singapore
Now that you know what type of equipment you want to buy, go the Sports portal and choose Sporting Goods.
Abdominal Machines: Tone and firm your stomach muscles, and give yourself a great chest workout with an abdominal machine.

Exercise Bikes: Build up and tone your thigh muscles, and give yourself a great cardiovasular workout with an exercise bike.

Exercise & Fitness Accessories: Find heart rate monitors and step and calorie pedometers to help you measure your fitness level. Find exercise balls and exercise mats to help you with your pilates programs and yoga exercises.

Step Machines: Tone your lower body with stepper or stair machine.

Strength Training: Build muscle with free weights, and home gym stations, including the Total Gym.

Treadmills: Get your heart rate up at the same time as watching your favourite TV show on your treadmill.

Other Exercise Equipment: Improve your cardiovascular fitness and overall health with a range of elliptical machines, step machines, rowers, ski machines, trampolines, inversion machines and more.
Let eBay Singapore find items for you by entering the keywords you want to find into the search box. For example, if you want a treadmill with a heart rate monitor, type "treadmill heart" (without quotation marks) in the search box. If you know the make and model of the equipment you want to buy, search for it. Check "Search title and description" to expand your search. If you have a specific brand and model in mind, type it into the search box. Visit eBay Singapore's search tips page for more advice about searching with keywords.
A good item listing should include equipment specifications, the name of the manufacturer, and a clear picture. If you want to know about information not included in a listing, email your question by clicking "Ask seller a question" under the seller's profile.
If you can't seem to find exactly what you want, try shopping eBay Stores, or saving a search on My eBay and eBay Singapore will email you when a match becomes available.

Back to top

Buy Exercise & Fitness with Confidence


Buy Exercise & Fitness with Confidence
Before making your purchase, make sure you know exactly what you're buying, research your seller, and understand how eBay Singapore and PayPal protect you.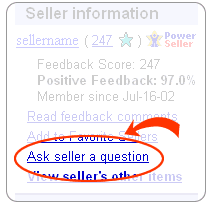 Carefully read the details in item listings.
Figure delivery costs into your final price. If you spend a lot of money, make sure the seller will insure the item when it posts.

If you want more information, ask by clicking the "Ask seller a question" link under the seller's profile.

Always make sure to complete your transaction on eBay Singapore (with a bid or Buy It Now). Transactions conducted outside of eBay Singapore are not covered by eBay Singapore protection programmes.

Never pay for your eBay Singapore item using instant cash wire transfer services through Western Union or MoneyGram. These payment methods are unsafe when paying someone you do not know.
Research your seller so you feel positive and secure about every transaction.
What is the seller's Feedback rating? How many transactions have they completed? What percentage of positive responses do they have?

What do buyers say in their Feedback? Did the seller receive praise?

Most top eBay Singapore sellers operate like retail stores and have return policies. Do they offer a money-back guarantee? What are the terms and conditions?
In the unlikely event that a problem arises during your transaction, eBay Singapore and PayPal are there for you.
Pay safely with PayPal: PayPal enables you to pay without the seller ever seeing your bank account or credit card numbers. In fact, PayPal protects buyers 100% against unauthorised payments from their accounts. Plus, with PayPal Buyer Protection, your purchase can be covered up to US$1,000.

eBay Singapore Security Centre: Visit the Security Centre to learn how to protect your account and use eBay Singapore's quick and efficient resolution tools.

Back to top

Need More Help?


Need More Help?
Visit our help pages or start a thread on one of our Community Discussion Boards - If you have a quick question that needs answering, try posting it on our community Answer Centre - there's bound to be a seasoned eBay Singapore veteran with just the information you're looking for!

Back to top

Legal Disclaimer


Legal Disclaimer
Buying Guides are intended merely as a guide or review for members when considering what products or services they may be interested in bidding on or purchasing. eBay does not make, and nothing in these Buying Guides is intended to constitute, any warranties, guarantees, representations or assurances about the accuracy of the information or content contained in these Buying Guides. Furthermore, eBay does not make, and nothing in these Buying Guides is intended to constitute, any warranties, guarantees, representations or assurances about the nature or performance of the products or services appearing in the Buying Guides. eBay is not affiliated with nor does it endorse the use of any particular product or service.

Back to top

---

Resources



Related Guides

Helpful Links