eBay Singapore's Watches Buying Guide


Besides serving a practical use to keep time, wristwatches and pocket watches can also represent a bold fashion accessory. Whether you wish to convey simple elegance with a gold watch or titanium wristwatch, or highlight your flair for fashion with a cuff watch, you'll find a huge selection of men's watches and women's watches in every price range on eBay Singapore. Start shopping for watches now on eBay Singapore!

Determine What Type of Watch You Want


Determine What Type of Watch You Want
Whether you require a wristwatch or pocket watch, you'll firstly have to decide if you want a battery-powered quartz watch or a mechanical watch that requires winding.
Quartz watches are the most common type of watches, offering both stability and accuracy. A small piece of quartz oscillates at over 32,000 vibrations per second. This ensures accurate timekeeping and explains why quartz watches only lose around 10 seconds of time each month. In addition, quartz watches do not require winding and you'll only need to replace the battery once every couple of years. Quartz watch faces come in various styles including analogue, digital, and anidigi.



Analogue quartz watches: Analogue watch faces have either numbers, Roman numerals, or tick marks to indicate time intervals.

Digital quartz watches: Digital watch faces provide an exact readout of the time in hours and minutes. Often, digital watches will have extra features such as depth sensors, Global Positioning System (GPS), altimeters, phone books, calculators, and compasses.

Anidigi quartz watches: Anidigi watch faces include a combination of the numeric elements of an analogue watch face as well as a digital display of the time.
Mechanical watches boast traditional craftsmanship and will usually be a little more expensive than quartz watches due to the skill and cost of labour required to build a valuable and complex timepiece. They depend on a spring (the "mainspring") to provide energy to an oscillator (often a wheel called a "balance wheel") as it unwinds. Because the wheel oscillates at around 28,000 vibrations each hour, your watch can lose several minutes in any given month. You'll find two types of mechanical watches:
Automatic mechanical watches: Automatic mechanical watches use a rotor swing that responds to motion, winding the mainspring running the watch. Often, automatic mechanical watches come with a transparent or partially-transparent display so you can see the rotor in action. If you wear an automatic mechanical watch for more than 12 hours each day, your motion will keep the watch mechanism running. However, you'll need to wind your watch if you don't wear it for a few days.

Manual mechanical watches: Manual mechanical watches, also called wind watches, require daily winding to tighten the spring.

Back to top

Consider Watch Materials


Consider Watch Materials
Determine what kind of band you want when selecting a wristwatch. There are a variety of popular styles available:
Stainless steel wristwatches: Stainless steel, is a durable metal, commonly used for watch cases and bands.

Aluminum wristwatches: Durable aluminum wristwatches will resist rust, tarnish, and corrosion.

Carbon fibre wristwatches: Tough carbon fibre wristwatches have a dark colour (dark grey or black). The material is used on watch casing and dials.

Titanium wristwatches: Sports watches often require a sturdy material like titanium which is a strong, white metal. Titanium wristwatches are 30% stronger than steel, fairly lightweight, and resist corrosion. You'll also typically find that they have a protective coating to make them scratch resistant.

Plastic/rubber wristwatches: Some sports watches and fashion watches are made of rubber or plastic, both of which make lightweight, and sturdy bands.
If you find a watch with a face that you love, but with a leather band or rubber band that you don't like, consider buying a replacement watch band to better customise the watch to suit your taste.

Back to top

Evaluate Watch Features


Evaluate Watch Features
When shopping for watches, determine if they come with the extra features you may want.
Watches with calendars: Day date watches display both the date and day of the week. Full calendar watches display the date, day of the week, and month.

Chronograph watches: Chronograph watches act as a stopwatch and use a meter to measure elapsed time. Chronographs can come in split seconds format to measure two time segments simultaneously or consecutively.

Water resistant watches: This feature is usually described on the dial or back of the case. A watch's water resistance is measured in feet, metres, or atmospheres (ATM). Watches that are water resistant up to 30 metres are splash-proof. Water resistant watches up to 50 metres can be worn in the shower. If you want to go swimming with a watch on then look for watches that have a water resistance rating of 100 metres. A water resistance rating of 200 metres indicates that the watch can be worn scuba diving.

Watches with moonphase indicators: Watches that have moonphase indicators have a display that indicates the phase of the moon with an image on a rotating disk.

Watches with tourbillons: Tourbillons, are small but very costly mechanisms, found in mechanical watches, that can help eliminate potential time errors.

Watches with a tachymeter: Tachymeter scales measure average speed by calculating time and pre-measured distance. They are located around the rim of a watch dial and are used along with a chronograph.

Watches with repeaters: Watches that have a repeater announce the time through a series of chimes when you press a button.

Telemeter scale watches: Telemeter scales can measure the distance between a watch wearer and an object that generates a visible signal or a loud noise (such as an electrical storm or a fired cannon).

World time watches: Watches with a world time feature indicate time in all time zones around the world. You can often choose the name of a major city in a certain time zone to see the time in that time zone.

Back to top

Select a Watch Warranty


Select a Watch Warranty
After you have found the perfect watch, take some time to find out whether it comes with a warranty and what that warranty entails before you make a final purchase. Good warranties will ensure that if your watch has any defects, they will be repaired for free, subject to certain conditions. Warranty terms and the parts it covers however can differ by watch manufacturer and seller.
When shopping for a watch on eBay Singapore, ensure you check the listing to see who provides the warranty, or if one is even provided at all. If there is no warranty information listed, contact the seller for more information.
The most extensive type of watch warranty, original manufacturer's warranties, only apply when you buy a new watch from an authorised retailer. These authorised retailers have permission from watch manufacturers, like Omega and Fossil, to sell their watches. Watches sold through other channels, pre-owned watches, and used watches are usually not covered by the manufacturer's warranty.
Some sellers and retailers also have pre-certified watch programmes. These sellers might provide warranties of their own that cover repairs to merchandise they sell.
A watch warranty is a contract to repair a watch at no cost so long as you meet certain conditions. It is not a guarantee. Warranties typically cover defects in materials and workmanship, but do not cover certain parts, such as bracelets and straps, normal wear and tear, or abuse. For instance, a case, glass, or crystal damaged by excessive wear might not be covered. Similarly, damage caused by mishandling, ie. water damage on a non-water-resistant watch, does not fall under the terms of a typical warranty.
Some warranties only cover the watch in the country where the watch was purchased, for example, Singapore. If you need to have a watch repaired under warranty, most service warranties require you to send the watch to specific locations for repair. Make sure you only have your watch repaired at an authorised repair shop as other repairs may void your warranty. Bear in mind that some warranties require you to pay postage charges for replacements and repairs.
Ensure you read watch warranty terms. Some manufacturers require you to register your watch as soon as you buy it from an authorised dealer so that the full length of the warranty will apply. Some manufacturers only offer warranties that provide limited coverage for two to five years, while other manufacturers may provide limited warranties for the lifetime of their watches.

Back to top

Maintain Your Watch


Maintain Your Watch
There are a few steps you can follow to make sure your watches live long and prosper lives.
Watch the temperature: Do not leave your watch in extreme cold or hot temperatures.

Stay away from magnets: Do not expose quartz watches to magnets.

Clean your watch: Regularly clean your watch to remove sweat, dirt, and oil. Wipe the crystal, case, and band with a soft cloth. Clean metal bands with soap, water, and a soft brush if needed. Although leather bands benefit from skin oil, you'll still want to remove excess dirt.

Take your mechanical watch to the pros: Take your mechanical watch to have its gears cleaned by a professional. Gears should be regularly maintained every three to five years.

Back to top

Find Watches on eBay Singapore


Find Watches on eBay Singapore
Once you know what type of watch you want, go to the Jewellery & Watches portal, click on Wristwatches, and start searching for items on eBay Singapore.
Keyword search: Search eBay Singapore listing titles for specific words. For example, if you want to find a gold Seiko wristwatch type "gold seiko" (without quotation marks) into the Search box. Click "Search title and description" to expand your results. Visit eBay Singapore's Search Tips page for more tips on searching with keywords.
If you can't find exactly what you want, try shopping eBay Stores, or save a search on My eBay and eBay Singapore will email you when a match becomes available.

Back to top

Buy Watches with Confidence


Buy Watches with Confidence
Before making your purchase, make sure you know exactly what you're buying, research your seller, and understand how eBay Singapore and PayPal protect you.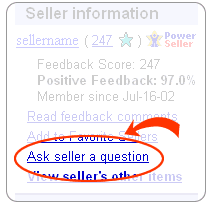 Carefully read the details in item listings.
Figure delivery costs into your final price. If you spend a lot of money, make sure the seller will insure the item when it is sent.

If you want more information, ask by clicking the "Ask seller a question" link under the seller's profile.

Always make sure to complete your transaction on eBay Singaporea (with a bid or Buy It Now). Transactions conducted outside of eBay Singapore are not covered by eBay Singapore protection programmes.

Never pay for your eBay Singapore item using instant cash wire transfer services through Western Union or MoneyGram. These payment methods are unsafe when paying someone you do not know.
Research your seller so you feel positive and secure about every transaction.
What is the seller's Feedback rating? How many transactions have they completed? What percentage of positive responses do they have?

What do buyers say in their Feedback? Did the seller receive praise?

Most top eBay Singapore sellers operate like retail stores and have return policies. Do they offer a money-back guarantee? What are the terms and conditions?
In the unlikely event that a problem arises during your transaction, eBay Singapore and PayPal are there for you.
Pay safely with PayPal: PayPal enables you to pay without the seller ever seeing your bank account or credit card numbers. In fact, PayPal protects buyers 100% against unauthorised payments from their accounts. Plus, with PayPal Buyer Protection, your purchase can be covered up to US$1,000.

eBay Singapore Security Centre: Visit the Security Centre to learn how to protect your account and use eBay Singapore's quick and efficient resolution tools.

Back to top

Need More Help?


Need More Help?
Visit our help pages or start a thread on one of our Community Discussion Boards - If you have a quick question that needs answering, try posting it on our community Answer Centre - there's bound to be a seasoned eBay Singapore veteran with just the information you're looking for!

Back to top

Legal Disclaimer


Legal Disclaimer
Buying Guides are intended merely as a guide or review for members when considering what products or services they may be interested in bidding on or purchasing. eBay does not make, and nothing in these Buying Guides is intended to constitute, any warranties, guarantees, representations or assurances about the accuracy of the information or content contained in these Buying Guides. Furthermore, eBay does not make, and nothing in these Buying Guides is intended to constitute, any warranties, guarantees, representations or assurances about the nature or performance of the products or services appearing in the Buying Guides. eBay is not affiliated with nor does it endorse the use of any particular product or service.

Back to top

---