Buying on eBay? Make sure you've got PayPal - the global leader in online payment solutions and the preferred payment method by 5 out of 6 buyers on eBay.1

Trusted by over 160 million users in 190 markets, PayPal is the fast, secure, easy and free way to send money across the island or around the world – without ever disclosing your financial information to the seller. All you need to get started is an email address.

Once you've found that perfect designer handbag in the US, watch in Singapore, or bargain from the UK, paying with PayPal is simple. Follow the easy step-by-step instructions below.

• Check if the seller offers PayPal

• Pay for your item with PayPal


Checking if the seller offers PayPal

There are two ways to see if a seller offers PayPal as a payment method:
Look in the PayPal column on the search results page

Look for the PayPal logo in the "Payment Details" section of the item description page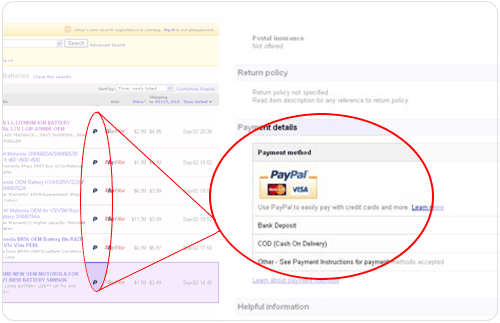 If you can't see the PayPal logo or symbol for a listing, be sure to ask the seller if PayPal is an option. PayPal is the safer, easier way to pay online.
Paying for your item with PayPal
When you've purchased an item that offers PayPal, you can complete payment for it in three easy steps simply by clicking the Pay Now button.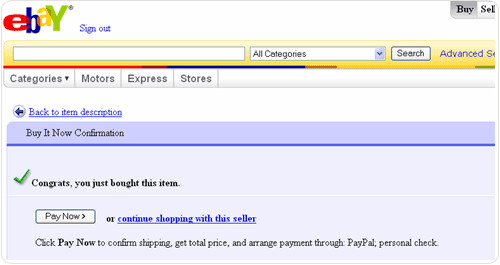 Step 1: Review your purchase
(A) Be sure to check your postage address and the total price of the item (item price, postage and handling, plus insurance if applicable).

(B) If you have a PayPal coupon, please enter the Redemption code and click Apply to enjoy the discount*.

(C) Click Continue to go to Step 2.

*Note: If the email address that you use to login to PayPal is different than your registered eBay email address, you will need to link your eBay username to your PayPal account so that you'll be properly recognised. Otherwise, your coupon may not be recognised by eBay and PayPal. Learn more about adding eBay accounts to PayPal.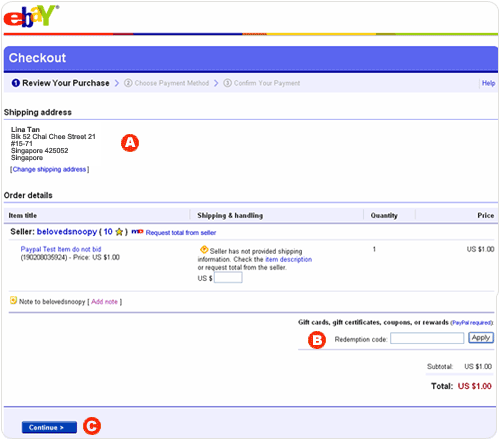 Step 2: Choose to pay with PayPal
Choose to pay with PayPal by logging in to your PayPal account. If you don't have an account yet, it only takes minutes to sign up for PayPal.
PayPal is the preferred way to pay on eBay – PayPal never shares your financial details with sellers, plus, shopping using PayPal is free.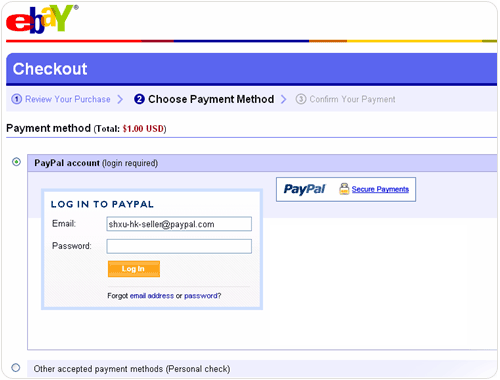 Step 3: Confirm your payment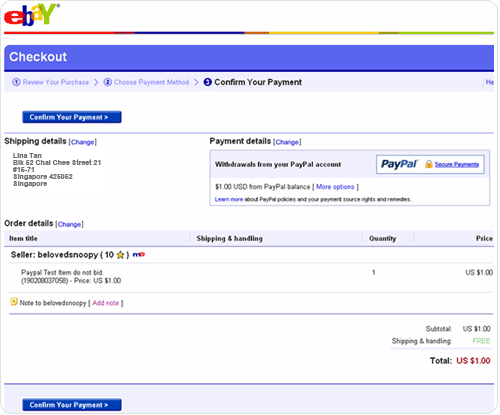 If you don't wish to pay for your item immediately, you can always choose to pay at a later time using PayPal in two ways:
Click the Pay Now button next to the item you purchased from inside My eBay.

Click the Pay Now button in the confirmation email you receive from eBay and the seller. This email would also contain detailed information from your seller.
From here, follow the same three easy steps outlined above to completing your payment with PayPal.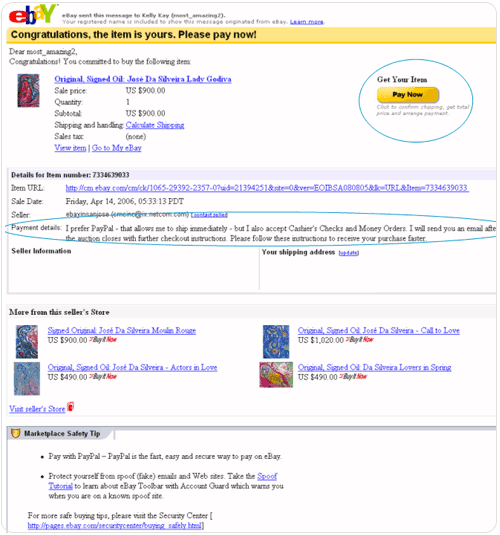 Do remember that the faster you pay for an item, the faster a seller can mail it to you.

Your eBay international purchase is fully protected

No matter what the amount, when you pay with PayPal, get free protection coverage for qualifying items bought on eBay.com and eBay.co.uk – in the unlikely event something goes wrong.2 

Check the 'Buy Safely' section on eBay when viewing your item and start your holiday shopping on eBay.com or eBay.co.uk with peace of mind.