eBay Singapore's Sunglasses Buying Guide


Sunglasses are the ultimate accessory. They look stylish, help you see better while you drive or play sports, and protect your eyes from the sun's harmful UV rays. From fashionable designer sunglasses to high performance sunglasses designed to endure any sport, you'll find a wide selection of sunglasses on eBay Singapore. Start shopping for sunglasses now on eBay Singapore!

Select Sunglasses With Style


Select Sunglasses With Style
Sporty sunglasses, bold sunglasses, or elegant sunglasses say a lot about your personality. With all the different types of sunglasses available on eBay Singapore, know which styles you prefer in order to narrow down your selection.

Aviator sunglasses: Originally designed for pilots in the 1930s, aviator sunglasses with their wire frames and large, oversized lenses have been a classic for years. Big and bold, they come with a variety of features, including UV protection and polarisation.
Celebrity sunglasses: Look like Paris Hilton, the Terminator, or Elvis with celebrity styled sunglasses. If you saw a pair of sunglasses in your favourite movie, chances are you can find it on eBay Singapore.
Designer sunglasses: Many high end clothing designers produce sunglasses to complement their lines. Although these designer sunglasses do provide protection from the sun, they are mostly worn as a fashion accessory rather than for active sports and recreation. Some popular choices include Christian Dior sunglasses, Gucci sunglasses and Chanel sunglasses.
Vintage sunglasses: Want to look like Jackie O. or Tom Cruise in Top Gun? From cat eyes to Ray Bans, vintage sunglasses take you back in time.
Sport sunglasses: While playing active sports, it is important to find a pair of sunglasses that protects the eyes and reduces glare. Just about anyone who enjoys being outdoor sports will benefit from picking the right pair of sport sunglasses. They come with a wide range of styles and features nowadays, including scratch resistant lenses. You can find water resistant sunglasses designed for water sports, durable and lightweight sunglasses designed for rock climbing, and sunglasses designed for any sport in between. Popular sports sunglass brands include Oakley sunglasses and Arnette sunglasses.

Back to top

Discover Sunglasses That Complement Your Face


Discover Sunglasses That Complement Your Face
To find a flattering pair of sunglasses, go for frames that contrast with your face shape. In general, smaller sunglasses will suit smaller faces the best and larger sunglasses will suit larger faces. To add some glamour and mystery to your style, go for a slightly over-sized frame.
Sunglasses for oval faces: If you have a balanced oval face, you can wear any style of sunglasses. Go for something that matches your style or experiment with some of the latest designs such as large over-sized frames or wrap-arounds. Square framed sunglasses with soft edges will also look good.

Sunglasses for round faces: Wider frames can help to make your face look thinner so go for sunglasses styles that are as wide or slightly wider than the broadest part of your face if you have a round face. To add definition to your face, choose sunglasses with a rectangular frame or other angular frame with soft edges. Another option is sunglasses with double brow bars as they add length by helping to pull the eyes upwards.

Sunglasses for square faces: Choose classic round frames or oval frames to soften angles. Curvy, cat eye sunglasses can also help add definition and feminine flair.

Sunglasses for triangular faces: Draw attention away from a sharp jaw by accentuating the eye area with styles that have a straight top line such as aviator sunglasses, or angular framed sunglasses. You can also lighten your overall look with rimless sunglasses.
Pick colours that brighten and set off your skin tone for the best effect. Whenever possible, try to emphasise your favourite feature. For example, highlight emerald eyes by wearing vivid green frames with pale lenses.

Back to top

Look at Sunglass Construction


Look at Sunglass Construction
Sunglasses made of different materials serve different purposes. For example, sport sunglasses have a durable, lightweight construction while designer sunglasses emphasise style over function. When comparing sunglasses, look at lens materials, lens colour, and sunglass frame construction.
Sunglass lenses are usually made of glass, plastic, or polycarbonate.
Sunglass lenses come in a variety of colours, with black being the most common. Different colours offer different protection or vision enhancements.
Grey sunglass lenses: Grey lenses provide the most natural colour vision as they reduce light intensity without distorting colours.
Photochromic lenses: Photochromic lenses look clear when indoors but once exposed to sunlight, they automatically darken in response to the ultraviolet rays of the sun. They also offer full UV protection.
Sunglass frames are often made of metal, nylon, or plastic.
Metal frame sunglasses: Sunglasses with a metal frame are strong but rigid. They can bend permanently or even break when twisted.
Plastic frame sunglasses: Inexpensive plastic frames are lightweight, strong, and flexible.
A rubber coating on the bridge and earpieces of sunglass frames allow sunglasses to remain positioned on your face.

Back to top

Choose Sunglass Features


Choose Sunglass Features
Sunglasses with certain features protect your eyesight and allow you to see more clearly.
Ultra-violet sunglass protection: Most sunglasses offer UV protection to shield your eyes from ultra-violet rays and protect against permanent sun damage and cataracts. While it is recommended that your sunglasses should offer at least 60% UVA protection and at least 70% UVB protection, a lot of experts suggest going for more than 98% UV protection. Some sunglasses may state "UV absorption up to 400nm" on the lable. This means that the sunglasses provides 100% UV protection. The lens tint of sunglasses does not affect the strength of UV protection at all as the UV protective coating is only applied to the lenses during the manufacturing process. Also, UV protection is not dependent on price tags, both drugstore and designer models can offer complete UV protection. Always make sure to check the label or item information before purchasing. Although sunglasses from expensive brand usually provide 100% UV protection, it's not always a guarantee.
Scratch resistant sunglass lenses: Scratch resistant plastic sunglass lenses and polycarbonate sunglass lenses have more durability than untreated lenses. Naturally scratch resistant glass sunglass lenses can also come with a scratch resistant coating that adds extra protection.

Back to top

Find Sunglasses on eBay Singapore


Find Sunglasses on eBay Singapore
Once you know what type of sunglasses you want, go to the Clothing, Shoes & Accessories portal and start searching for item listings on eBay Singapore.
Keyword search: Search eBay Singapore listing titles for specific words. For example, if you want to find Gucci sunglasses, type "gucci sunglasses" (without quotation marks) into the Search box. Click "Search title and description" to expand your results. Visit eBay Singapore's Search Tips page for more tips on searching with keywords.
If you can't find exactly what you want, try shopping eBay Stores, or save a search on My eBay and eBay Singapore will email you when a match becomes available.

Back to top

Buy Sunglasses With Confidence


Buy Sunglasses With Confidence
Before making your purchase, make sure you know exactly what you're buying, research your seller, and understand how eBay Singapore and PayPal protect you.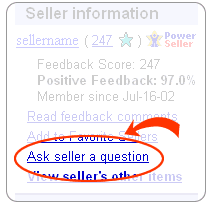 Carefully read the details in item listings.
Figure delivery costs into your final price. If you spend a lot of money, make sure the seller will insure the item when it is sent.

If you want more information, ask by clicking the "Ask seller a question" link under the seller's profile.

Always make sure to complete your transaction on eBay Singapore (with a bid or Buy It Now). Transactions conducted outside of eBay Singapore are not covered by eBay Singapore protection programmes.

Never pay for your eBay Singapore item using instant cash wire transfer services through Western Union or MoneyGram. These payment methods are unsafe when paying someone you do not know.
Research your seller so you feel positive and secure about every transaction.
What is the seller's Feedback rating? How many transactions have they completed? What percentage of positive responses do they have?

What do buyers say in their Feedback? Did the seller receive praise?

Most top eBay Singapore sellers operate like retail stores and have return policies. Do they offer a money-back guarantee? What are the terms and conditions?
In the unlikely event that a problem arises during your transaction, eBay Singapore and PayPal are there for you.
Pay safely with PayPal: PayPal enables you to pay without the seller ever seeing your bank account or credit card numbers. In fact, PayPal protects buyers 100% against unauthorised payments from their accounts. Plus, with PayPal Buyer Protection, your purchase can be covered up to US$1,000.

eBay Singapore Security Centre: Visit the Security Centre to learn how to protect your account and use eBay Singapore's quick and efficient resolution tools.

Back to top

Need More Help?


Need More Help?
Visit our help pages or start a thread on one of our Community Discussion Boards - If you have a quick question that needs answering, try posting it on our community Answer Centre - there's bound to be a seasoned eBay Singapore veteran with just the information you're looking for!

Back to top

Legal Disclaimer


Legal Disclaimer
Buying Guides are intended merely as a guide for members when considering what products or services they may be interested in bidding on or purchasing. eBay does not make, and nothing in these Buying Guides is intended to constitute, any warranties, guarantees, representations or assurances about the accuracy of the information or content contained in these Buying Guides. Furthermore, eBay does not make, and nothing in these Buying Guides is intended to constitute, any warranties, guarantees, representations or assurances about the nature or performance of the products or services appearing in the Buying Guides. eBay is not affiliated with nor does it endorse the use of any particular product or service.

Back to top

---

Resources



Related Guides

Helpful Links